Gift Ideas for your Traveling Guy
This shop has been compensated by Collective Bias, Inc. and its advertisers. Product was provided for client review; however all opinions are mine alone.
#WorldsSmartestToothbrush #PhilipsSonicare #OprahsFavoriteThings #CollectiveBias
If your husband is like mine, he is notoriously difficult to buy for. I think his favorite gift I've ever got for him is when I paid for the annual fee on his Platinum American Express card! Because he travels so often, he doesn't want a bunch of junk weighing him down. My guy is a bit of a minimalist: he isn't one for the latest trends, and while he appreciates great technology, he is not a tech geek (like me). He likes classic and traditional, but every now and then I find something that is a great upgrade to things he already has and loves (or needs) which incorporate tech in a way that he can appreciate.
Sometimes I need a little inspiration (or a nudge in the right direction) and this is why I'm a HUGE fan of Oprah's Favorite Things List – her list always offers a fun mix of the "didn't know you needed it but you want it" and the "practical but cool" gift ideas. The Philips Sonicare DiamondClean Smart 9500 Rechargeable Electric Toothbrush is on Oprah's Favorite Things List 2017. And that made a lightbulb go off in my head because I have the Philips Sonicare DiamondClean Smart 9300 Rechargeable Electric Toothbrush myself, and which is also the perfect practical but cool gift idea.
(This would be a GREAT upgrade for my longtime Philips Sonicare-using and much traveling husband and will definitely meet approval.) It also inspired the rest of my shopping list for him, because he has been on the road an ever-increasing amount this year. I decided to focus on upgrading his personal use traveling items for Christmas!
My hubby is a low-key guy. He works, he works some more, and he spends the rest of his time with his family. With all the traveling he does, I want to make sure he has everything he needs to make it as comfortable as possible, and the Philips Sonicare DiamondClean is their best ever toothbrush, so it's the perfect jumping off point.
Hover over the image below to start shopping for the Philips Sonicare DiamondClean Smart 9300 Rechargeable Toothbrush.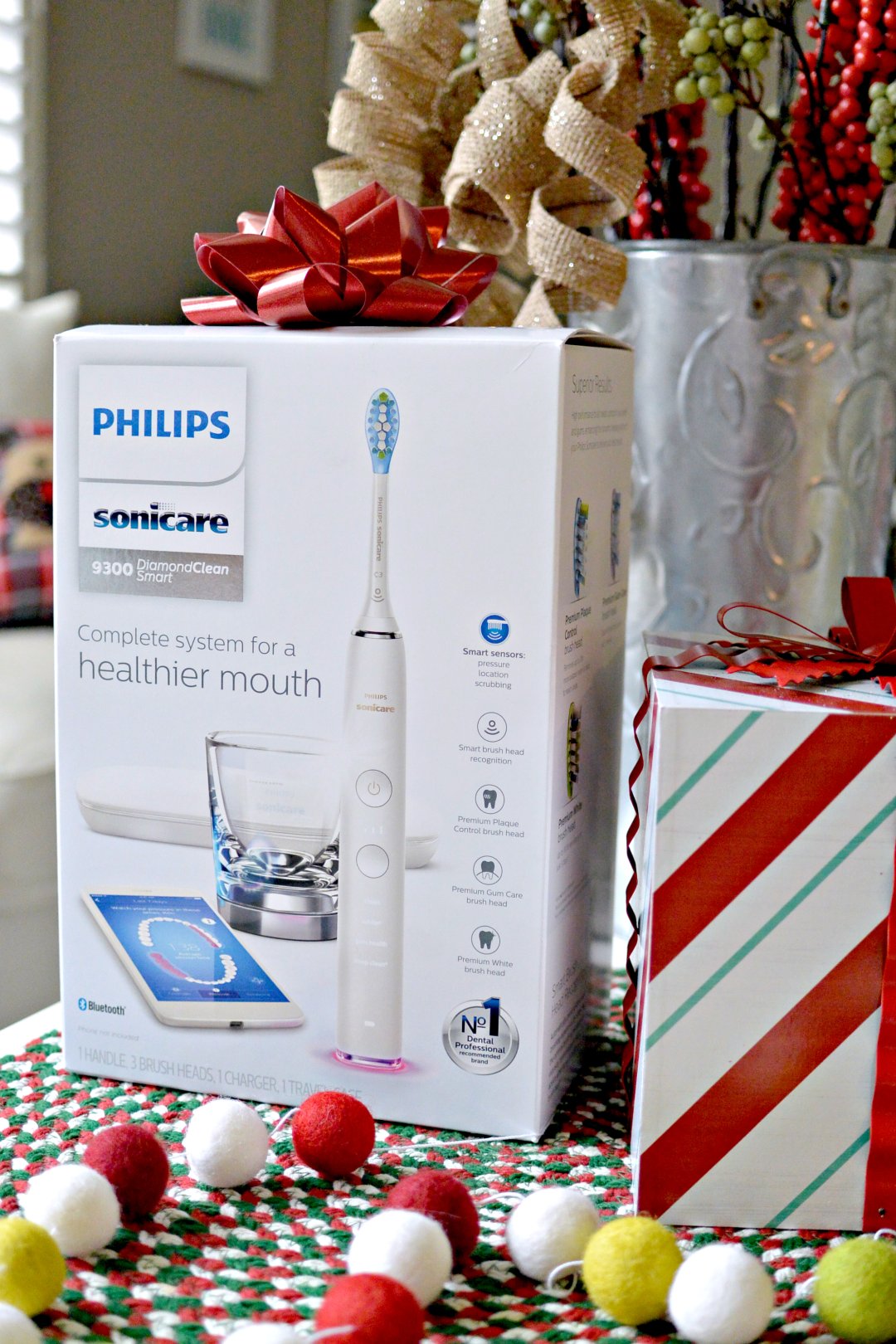 Here are some other things that just might be found under our tree this year.
Gift Ideas for My Traveling Guy:
A Philips Sonicare DiamondClean Smart 9300 Rechargeable Toothbrush – because it's Philips best ever toothbrush for complete oral care with its combination of multiple brush heads, four modes and three intensities to get a complete keen and let him put his best smile forward.
A Rechargeable Travel Razor – will keep him presentable while he's on the road. (And that means I can pass down his old one to our 13-year-old who is due HIS first razor.). If you would like to purchase an electric razor for the man in your life, but do not know where to begin looking, checking out product review sites such as Buyers Impact can make your decision easier.
A Slimline Leather Wallet – because when you're pulling out your wallet for those business lunches and dinners, a guy needs a nice wallet. A slimline one is less bulky for travel.
An All-in-One user-friendly universal travel adapter with USB ports – whenever my husband needs to travel overseas he needs to dig through my travel bin to find the right adapter bits for his phone and razor. One of these nifty adaptors lets him travel lighter.
A Leather Toiletry Bag – traveling weekly, his toiletry bag takes a lot of wear and tear. A good leather bag protects his suitcase from spills and keeps all his personal items together. The one I've picked out includes and extra zippered pocket for small items and holds the Premium travel case for Philips Sonicare DiamondClean perfectly along with the travel razor and other personal necessities.
If you are looking for bonus points, get him a membership to his favorite airport lounge – then he can freshen up and relax in luxury!
Now, you might be saying – wait – but he HAS a Sonicare! Well, the beauty of the replaceable heads is that I can hand his older one down to my teen who gets his braces off in a few weeks and is ready to upgrade from a manual brush. Let me tell you why this toothbrush is going under the tree for him:
One of the things I love most about this toothbrush is that it can connect to an app on your smart phone via Bluetooth to monitor, track and help you improve your oral care. Even the most app-resistant man on the planet agreed that it is insanely useful.
How does it do that, you may ask?
This is one intelligent toothbrush.
Thanks to its multiple Premium brush heads that pick the optimal mode and adjust to the right intensity, and its sensors and app that work together so you see where you are missing and when you are applying too much pressure, it's like having a tiny coach to help perfect your technique and get a complete clean. It seriously can't get any easier that this.
It even tells you how long you are brushing – perfect for the super meticulous around me. (ahem.)
I'm in a constant battle with plaque so I love the Plaque control head. And who doesn't want healthier gums in 2 weeks* (*vs a manual toothbrush) – that's a gift in itself. To learn more about this cool toothbrush, visit the Philips Sonicare site here.
Getting one is easy peasy – a quick hop on Amazon and it is at your doorstep in no time. Who knew there were so many color choices for an electric toothbrush?
This is one gift that just may turn your guy on to tech-gifts if he isn't a tech-savvy guy. Coupled with everything on my list here, heading back out on the road might be a little bit easier.
What gifts are on the list for your traveling guy?
If I should add anything, let me know in the comments below!
Want to learn more about Philips Sonicare products? Follow them on social media here:
Facebook https://www.facebook.com/PhilipsSonicare/
Pinterest https://www.pinterest.com/search/pins/
Twitter https://twitter.com/philipssonicare
YouTube http://www.youtube.com/philips
Instagram https://www.instagram.com/philipssonicare
SaveSave
SaveSave